It's well past sunset at the base of Mount Naeba in Niigata Japan. I'm on a mission to find the "Field of Heaven" while wandering (decidedly lost) down a narrow boardwalk that meanders through a thick, dark forest. The full moon and my phone flashlight provide just enough light to prevent me from falling off the walkway while I take in my surroundings. The forest on either side of the boardwalk is adorned in decor ranging from beautiful to creepy. I pick up my pace and finally arrive at a clearing, where colored flood lights illuminate the surrounding trees, turning the circle of evergreens an array of bright purple, blue and pink. Just when I think I've reached (yet another) dead-end I see a bridge, covered in an awning of large tree branches. The sign above read "Field of Heaven" — I made it. (Hallelujah!)
No, I didn't just describe an acid trip, but rather my first experience at Fuji Rock Music Festival (which, now that I think about it, is probably fairly similar).
Located at the Naeba Ski Resort in the mountains of Niigata (a 2-hour drive from Tokyo), Fuji Rock Music Festival is a 3-day event featuring over 200 bands from all around the world. It attracts more than 100,000 people annually and, therefore, is the largest outdoor music event in the country.
I went to Fuji Rock last summer and was one of exactly five blondes in attendance (that I counted).
I've been to my share of music festivals in the US, so I (naively) expected something similar — but I couldn't have been more wrong. Fuji Rock is nothing like US music festivals. If you're thinking about attending Fuji Rock, or simply curious about what a huge music festival in Japan is like, here's the info I wish I'd had before attending; including what to wear to Fuji Rock, what to expect at a Japanese Music Festival, and how it differs from what Americans may be used to.
(At the end of this post I also included some tips for first time Fuji Rockers as well as some personal highlights from my first time at Fuji Rock).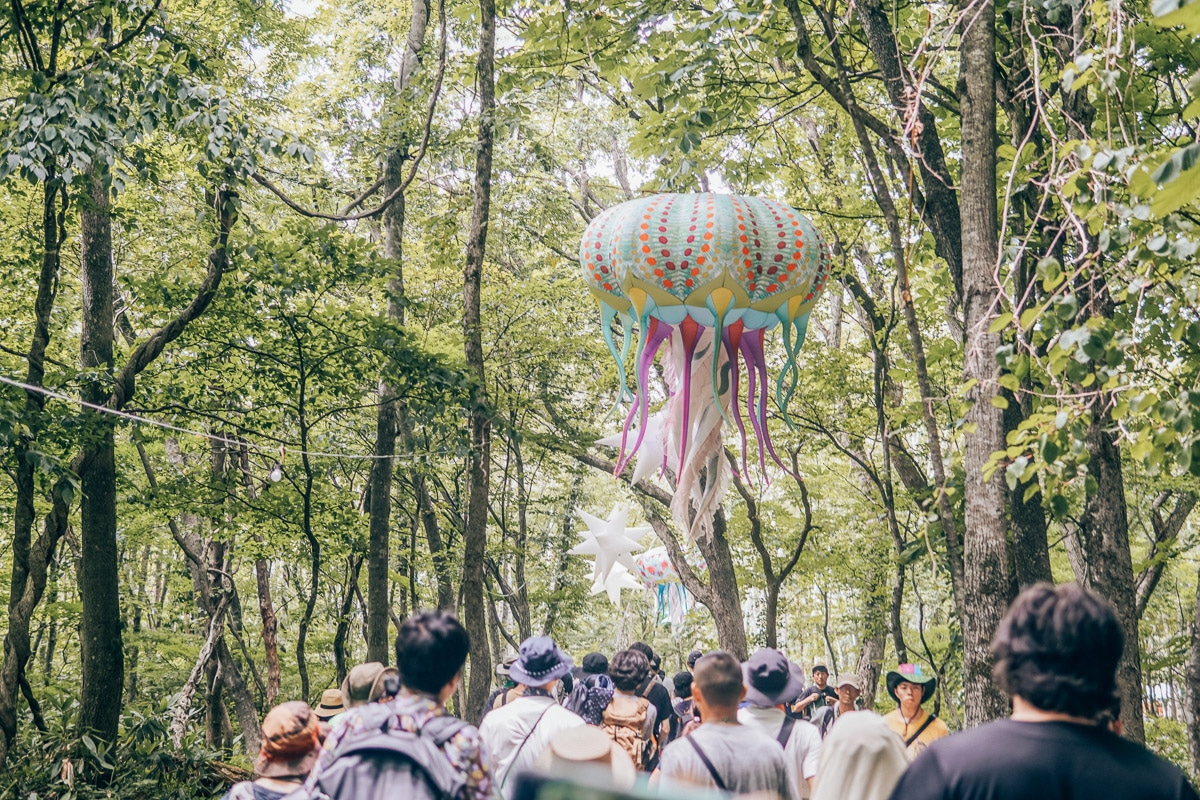 Music Festivals in Japan > Music Festivals in America
Unlike Coachella and Burning Man — which attract close to the same amount of people each year— Fuji Rock isn't known for drinking, drugs or fashion. Japan's drug laws deter widespread drug use; most drinks sold at the festival are incredibly small/weak, and Fuji Rock "fashion" is centered around practicality (think hiking clothes).
Rather, the music festival is about… music (gasp). And, of course, the overall experience (from the decor to the sustainability ethos), which feeds heavily off the beautiful mountain setting. Fuji Rock is BY FAR the cleanest, most orderly and organized music festival I've ever been to.
There's not much pushing or crowding to get close to the stage (everyone keeps an impressive personal bubble, even in a crowd of thousands), the bathrooms aren't full of drunk girls puking or doing lines, and there's no mosh pits or crowd surfing, or raving. The "craziest" thing I saw was a group of people collectively cheering (extremely enthusiastically) for each incoming/outgoing Gondola while waving shirts and towels. Whether or not said people were even intoxicated is still a mystery (I want to say yes, but I have a hunch they may have been doing that sober… for over an hour… for fun…).
Needless to say, Fuji Rock is good, clean, fun. (It really does bring new meaning to the concept of "high on life", since the festival itself is such a sensory overload — from the crazy decorations, to the mix of music, to the stunning setting.)
The Music:
You haven't "Festival-ed" until you've been standing in a crowd of several thousand people jamming out in a foreign language to a band you've never heard of (but immediately love because the energy is palpable). That's the essence of Fuji Rock — it's a cacophony of music from numerous countries and genres.
A stroll around the grounds on Saturday afternoon led to a Japanese heavy metal band rocking out on the main stage, while nearby (a short walk over the river and through the woods) I came across a stage on which a stick-thin blonde in a white long-sleeved jumpsuit was doing an impressive interpretive dance that ended in the faking of a seizure (the band, I later found out, was an American band called Starcrawler). Beyond that a bluegrass band played at yet another nearby stage. To say the music runs the gamut would be an understatement.
What to Wear at Fuji Rock
If I could give you any advice, it would be: RAIN BOOTS. Fortunately, I had the forethought to purchase a pair of rain boots in Tokyo before heading up to Fuji Rock, and it was probably the best decision I made while in Japan. You're on a mountain, and rain is likely. If it rains on a mountain it gets muddy. Trust me, you'll want rain boots. And just rain gear in general (think heavy rain jacket, pancho, an umbrella — whatever). Just ensure you come prepared for rain.
Beyond rain gear, fashion really isn't important at Fuji Rock. You'll be trekking through dirt and mud, so dress accordingly. Most people in attendance wore hiking boots and outdoor gear.
Furthermore, it's a good idea to dress in layers and prepare for a variety of temperatures. It's hot during the day and cold at night, so you'll want to pack everything from a sweater to a swimsuit (there's a river to cool-off in).
Fuji Rock Music Festival Tips:
You're going to get lost.
And when I say lost, I mean exceptionally lost. Like wondering if you'll even come out on the same planet kind of lost. In my best attempt to prepare, I downloaded the Fuji Rock app and I had a map — regardless I was still perpetually lost (plus asking for directions proved mostly unsuccessful). Take some time to stroll the grounds during the day to get your bearings and embrace the "lost". You'll stumble on stages accidentally and listen to music you've never heard of, and in the confusion you may just find the time of your life.
Be Mindful of timing.
Most shows, in true Japanese fashion, start right on time. So plan to get there early and give yourself plenty of time to find the stage and set up a chair. Also, after each big show there's a mass exodus flowing to the next main stage for the next show. If you want to be on time / beat the crowds, you may want to consider leaving one show a bit early (if there are two shows you're attending back-to-back).
Consider bringing a chair or something to sit on.
You'll want to sit in between shows, and the ground is often muddy.
Connect with other Fuji Rockers
There's a Fuji Rock WhatsApp group of westerners that I found immensely helpful. Though I was mainly a lurker, it was nice to have a sense of "community" so far from home, and keep a tab on
Carry Cash.
Very few vendors take credit cards.
Random side note: If you're hoping to purchase a shirt or merchandise, do it early in the weekend. By the time I got around to buying Fuji Rock T-Shirt (a souvenier for my sister), they were nearly all sold out.
Prepare to do A LOT of walking.
It's a 20-35 minute walk to get from White Stage to Field of Heaven. The grounds are huge and very spread out. So, as I mentioned above, wear comfortable shoes (I cannot stress this enough) and give yourself plenty of time to get from one show to another.
Lodging Options
Most people who attend Fuji Rock camp, but if you can book early and get a hotel I highly recommend it. The camping area is extremely crowded and the lines for showers seemed never-ending. If you can book early, I'd recommend trying to get a hotel. There are numerous hotels nearby that — in my opinion — seem like better options. I stayed at the Naeba Prince Hotel, which is walking distance to the festival (and that's where most of the artists stay).
When I attended Fuji Rock, there was a literal monsoon the last night and most tents didn't make it. Needless to say, I was glad I was in a hotel during my first Fuji Rock Music Festival Experience.
Some of the highlights from my first time at Fuji Rock include:
All-Access Artist Pass
Being given the opportunity to experience the festival with an all-access, artist pass (Huge "THANK YOU" to my friend & Nathaniel Rateliff & The Night Sweats for hooking it up!!). Definitely something I could get used to (I'm not big on crowds).
Getting introduced to Zima cocktails:
The alcohol choices at Fuji Rock are fairly limited (mostly beer and low-alcohol mixed drinks). However, one drink that I discovered that I LOVED was Zima. The Zima booth had several different flavor options, but I went with the traditional Zima + Mint. It was SO good I walked over a mile (multiple times) just to get that drink (the only location was by the white stage). I guess Zima is/was available in the states as well, but that was the first I've seen or heard of it (and I haven't seen it anywhere since). If you're attending Fuji Rock and looking for an alcoholic beverage I highly recommend giving it a try!
Nathaniel Rateliff & The Night Sweats Headline Performance
One memory that will stick with me was standing back stage and watching Nathaniel Rateliff & The Night Sweats perform their last show of the festival. However, this wasn't like the other shows they performed that weekend. They were headlining one of the outdoor stages (which, in itself, is pretty cool) and they were the last act of the night to perform on that particular stage. Being in a foreign country, I wasn't sure what size of audience to expect; or if many people in Japan knew their music. Add to that they were performing at the same time as Kendrick Lamar, and — more problematic — it was POURING down rain (like, monsoon style rain), which made it FREEZING.
However, that didn't deter thousands of Japanese fans from attending the show. Despite the rain, and the mud, and the cold, everyone in attendance was singing and dancing and having the time of their life. What stuck with me was watching a crowd of Japanese fans (most of whom don't even speak english) brave the elements and sing every word to the songs the band performed — which could best be described as country music.
So, essentially, I was watching thousands of Japanese music fans tough it out through the rain, wind, mud and cold to sing country music at the top of their lungs in a language they don't even speak. The irony and the beauty of it were not lost on me.
At the end of the set the band played their most popular song (S.O.B), and when the song was over and the band went backstage the audience kept singing the last line/harmony over and over ("OOOOO OOOO OOO OO O".) Despite the rain and cold this "encore" singing went on for almost a minute before the band went back on stage to play another 1-2 songs. It was a cool thing to see and a great way to end the festival.

Monkeys!
Every now and then I'd catch a glimpse of some wild monkeys. When I first saw one, I panicked thinking it was a bobcat (I saw it from the back), but when I discovered it was a MONKEY I got way too excited. Evidently, there are quite a few wild snow monkeys (or Macacas) that live in the area and break into the hot springs during the winter.
Gondola
Taking a Gondola up to the top of the mountain to get a birds' eye view of the gorgeous area. The lush green scenery was stunning and I pictured how gorgeous it must look in the fall (and how different the ski resort must look in the winter).
Pin For Later ⇓